Panama Coffee Origin
If you consider yourself a coffee connoisseur then you will be familiar with the Panama coffee origin. Panama has become a famed coffee region, renowned for their astounding cups of the geisha varietal.
Although geisha coffee originates in Ethiopia, Panama has made the bean its own, wowing all of those who have the pleasure of enjoying a sip. In fact, Panama's geisha is the only coffee in history to receive a cupping score of 100. And, if that's still not enough to convince you, Panama has become so renowned that many are grabbing a plane ticket to visit the region as a part of a new 'coffee tourism' that is increasing in popularity.
If you don't have the time to travel to Panama, not to worry, allow us to take you on a journey right here. Continue reading to discover more about this incredible and delicious coffee!
Where Panama coffee began
Panama coffee was first planted in the 19th century when European immigrants settled in the Chiriqui province of Panama located on the western coast. With Panama's tropical climate, mountainous terrain and nutrient dense volcanic soils, whether they were aware of it or not, the settlers chose an ideal location to plant their coffee plant seeds.
Early plantations were in coastal areas but, due to the low altitude, early farms were plagued with pests and diseases, and cultivation soon moved to higher elevation. Today, the three primary coffee regions are all within the Chiriqui Province; Boquete, Volcán and Renacimiento.
The town Boquete situated beside the misty mountains, has become the hot-spot of Panama's coffee industry. With hillsides covered with coffee plantations and greenhouses— Chiriqui's hidden gem Boquete is a must-visit location for coffee tourists.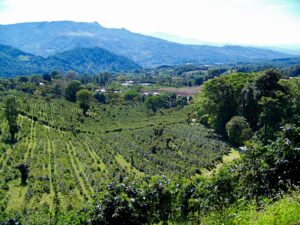 Geisha coffee: best in the world
Although for many, Panama has almost become synonymous with geisha, the region didn't start growing geisha coffee until the 1960s. It was at this time geisha was "rediscovered" in the town Hacienda La Esmeralda. This same farm entered their geisha into the Taste of Panama competition, which iconically led to the worldwide fame of Geisha for Esmeralda.
Since the introduction of geisha into Panama, farms across the region have been inspired to plant geisha and other speciality coffee varietals. Now, specialty arabica coffee makes up 80% of coffee grown in Panama with only 20% being the lesser quality robusta coffee.
Word quickly spread of Panama's delectable geisha, which saw the selling price reach over $2500 per kilogram. Now we thought coffee prices were increasing… but this is definitely taking it up notch! Of course, there are more affordable geisha coffees available however, the higher quality you go, the higher the price tag.
What makes Panama special?
You might be thinking this is all well and good but Panama is one of the many countries located within the bean belt, what makes Panama different from the others? Well… Let us fill you in!
Panama's main coffee regions – Boquete, Volcán and Renacimiento – are each nestled beside one of the Chiriqui Province's impressive volcanoes: Volcán Baru, El Valle and Le Yeguada. This has blessed each area with outstanding microclimates, rich volcanic soils and a cool breeze from the Pacific and Atlantic oceans.
With an ideal climate alongside the mountain, coffee cherries ripen slower. It's this ripening process that increases the sugar concentration and volatile oils which makes the coffee so sweet, complex and delicious.
Geisha coffee in particular is challenging and finicky to grow. Due to the varietal's thin foliage, shallow roots and a yield that's nearly half of other coffee varieties such as Caturra or Catuai—geisha is simply not worth its while for other regions.
Other origins simply can't replicate the exact conditions of Panama coffee, which might explain the hefty price one has to pay to enjoy a cuppa. In our opinion, it's definitely worth it and we highly recommend you opting for a black coffee next time you see a Panama geisha on the menu.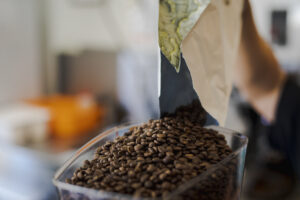 Panama coffee profile
Growing regions: Boquete, Renacimiento, Volcán 
Common varieties: Geisha, Caturra, Catuai, Typica, Mundo Novo
Processing Method: Washed and Natural
Harvest period: November – March
Rainfall: Yearly rainfall of 125-150 inches
Climate: Hot and humid tropical climate
What does Panama coffee taste like?
Panama coffee differs wildly from one bean to the next. For the panama geisha varietal, the flavour is often sweet and fruity with an aroma that is perfumed and floral. Other varietals such as Caturra or Typica are also on the sweeter side but with bursts of citrus. 
There's really only one way to truly understand the exceptional taste of the panama coffee and that is… to drink it of course!
Although our roastery doesn't offer Panama coffee year-round, when it comes in season we always make sure to order the green. If you would like to know when our next Panama is available, send us an email! We'll let you know when the next delectable Panama will be roasted.
Explore Single Origin Coffee
Travel the globe, one coffee at a time.